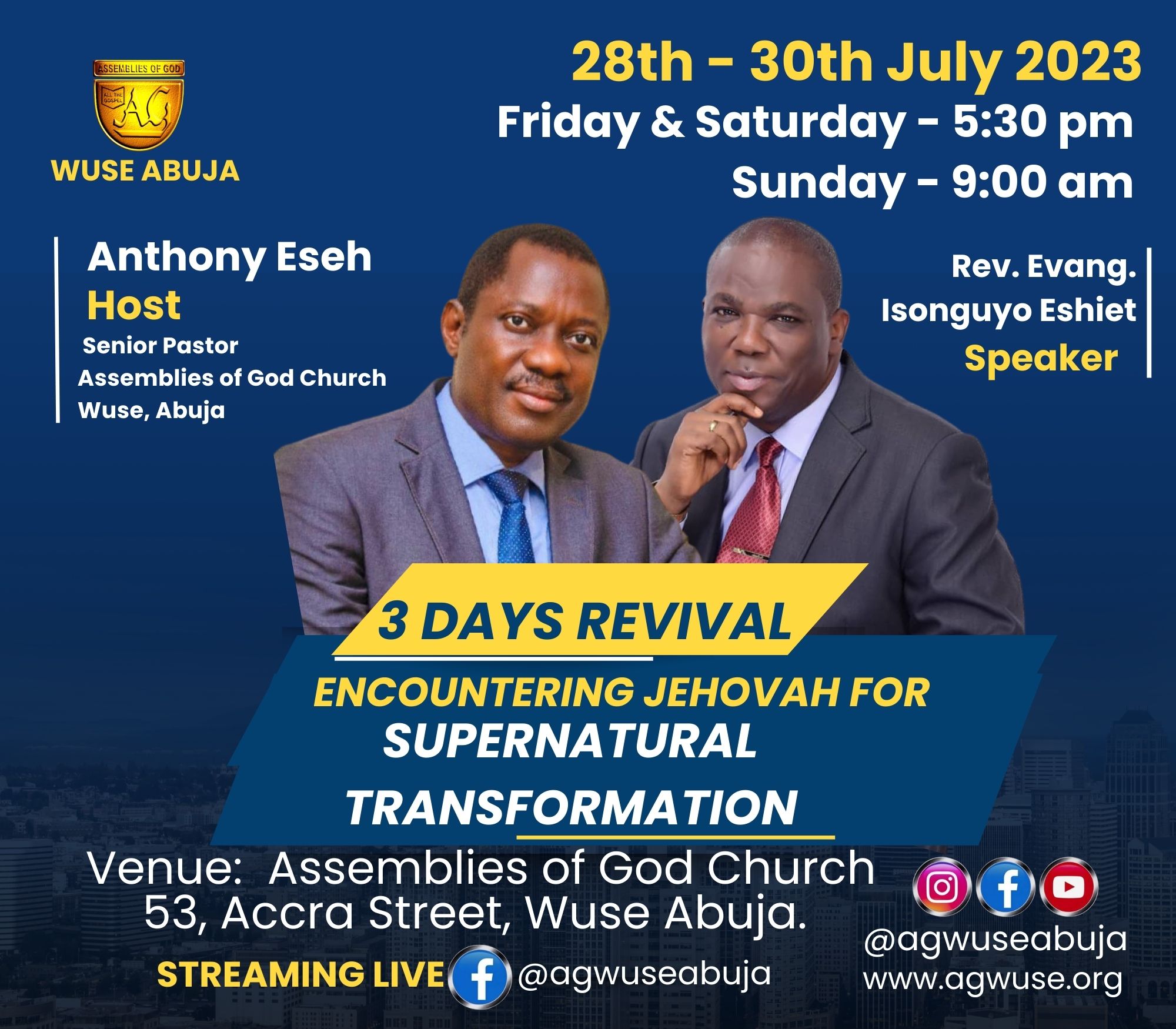 Encountering Jehovah For Spiritual Transformation
In today's world, we are faced with so many trials, which might blind us from really encountering God and being transformed spiritually. In Assemblies of God Church, we come together as a family, our desire to encounter God, and be touched by him is so great. In this program, a way is offered for everyone to be transformed in Spirit.
The Quest for Divine Encounters
At the core of every human heart lies a longing for something greater than ourselves. As we seek deeper meaning and purpose, encountering Jehovah becomes an ever-present desire. The Scriptures are filled with accounts of people who experienced life-changing encounters with the Divine. From Moses at the burning bush to Paul's encounter on the road to Damascus, these encounters set the course for a remarkable transformation. We, too, can experience such divine moments that realign our lives with God's purpose.
The Path of Prayer and Worship
The pathway to encountering Jehovah is paved with prayer and worship. It is through the simplicity of prayer that we communicate with God, and in worship, we exalt His name. Engaging in heartfelt prayer and authentic worship creates an atmosphere where God's presence can dwell among us. The power of unity in worship draws us closer to Him, facilitating an environment for the supernatural to manifest.
The Unveiling of God's Word
God's Word is a treasure trove of wisdom and revelation. As we immerse ourselves in the Scriptures, we encounter the very heart of God. It is through the Word that we gain insight into His character, His promises, and His desire for our lives. Each encounter with God's Word brings divine transformation, moulding us into the likeness of Christ and aligning us with His divine will.
Experiencing the Miraculous
Encountering Jehovah is not a mere philosophical exercise; it is a catalyst for experiencing the miraculous. God delights in revealing His power through signs, wonders, and miracles. As we open our hearts to His supernatural touch, we become vessels through which He can work wonders. Healing, deliverance, and restoration become tangible expressions of His love and mercy in our lives and in the lives of those around us.
Embracing Supernatural Transformation
Supernatural transformation begins when we surrender our lives to Jehovah and yield to His leading. It is an ongoing journey of growth and refinement, where old mindsets are replaced with God's truth, and brokenness is exchanged for wholeness. As we encounter Jehovah daily, we are continually being transformed into His image, bearing the fruits of the Spirit and walking in His divine purpose.
Conclusion
In conclusion, the Assemblies of God Church invites you to embark on a transformative journey of encountering Jehovah for supernatural transformation. Through prayer, worship, and the study of His Word, you will draw near to the Almighty and experience His life-changing presence. Embrace the miraculous as you yield to His transformative power, and witness the beautiful work He performs in your life. Come join us on this incredible adventure of faith, and let us walk together in pursuit of a deeper encounter with Jehovah.
Remember: "But we all, with unveiled face, beholding as in a mirror the glory of the Lord, are being transformed into the same image from glory to glory, just as by the Spirit of the Lord." - 2 Corinthians 3:18